Move large and bulky materials over short distances
A forklift is a machine with two hydraulic-powered prongs at the front. Just like many other inventions, the forklift was born out of necessity - the need to lift and move large and bulky materials over short distances. Today, forklifts are a common sight in workplaces.
Forklift operators drive them around, moving items in construction sites, factories, storage yards, warehouses and other work sites.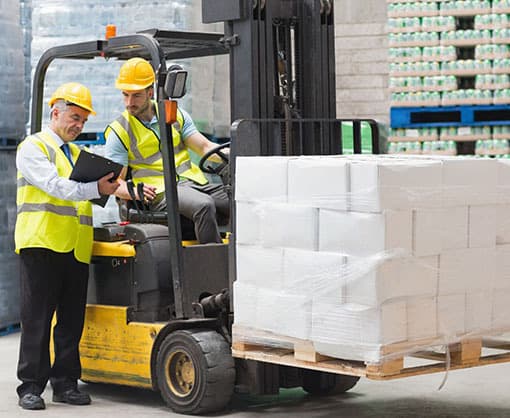 Typically, the operator must be a responsible individual with outstanding forklift operation skills to ensure proper and safe transport of and safe transport of materials and products. If you are looking for a forklift operator job, Certified Source is here to hook you up with the top companies in Oklahoma and beyond.
What are the Primary Responsibilities of a Forklift Driver?
Driving a forklift might seem like a piece of cake, but it actually takes a highly skilled and focused individual to successfully operate. You are responsible for accurate and prompt receiving, storing, and shipping of products to meet company and industry standards of quality, productivity, and safety. That means you'll be required to perform laborious tasks that are very repetitive. Duties may vary based on the organizations you work for. Some of the primary responsibilities include:
Moving materials from facilities to pick-up locations or workstations

Stacking and organizing large bulk items

Following and updating inventory activity and records and log all completed tasks

Performing maintenance on the forklift as needed
Ensuring the lift truck is appropriately stored, fueled, cleaned, and ready to operate

Operating the machine with care and awareness of coworkers and the environment around

Complying with company policies and legal guidelines
Requirements and Qualifications
A qualified and well-experienced forklift operator who finds pleasure in his or her work does a better job overall. For that reason, the ideal candidate must have the ability to operate the forklift in a variety of conditions and spaces and possess valid certifications.
In most cases, requirements include a high school diploma or GED, excellent communication skills, and problem-solving skills.
Employers have high regard for an applicant with forklift certification, as required by OSHA standards, proven experience as a forklift operator, and ability to use the warehouse management system and RF scanners.
Forklift operator jobs are not usually a nine-to-fiver. Sometimes you are required to work more than the usual 8-hour shift, especially in work sites that operate around the clock. You might also be subject to harmful chemicals, odors, fumes and loud noises depending on the materials you're moving. That means you must meet specific physical standards such as:
Ability to assess weights and judge heights and distances

Good eye-hand-foot coordination

Ability to sit on a powered industrial truck for hours
Ability to adjust body position to stoop, bend, climb, walk, turn, pivot and stand for long periods of time

Ability to lift up to 50 pounds
Employment Prospects & Earning Potential
According to industry statistics, more than 540,000 forklift drivers are employed across the country every year. That means, with the above qualifications coupled with an excellent physical condition, you can land a well-paying forklift driver job in Tulsa. Although skill level is a big differentiator in pay, you stand a chance to make between $14-19 per hour as you gain more experience behind the wheel of a forklift.
Where Can I Find Forklift Jobs Near Me?