There is no denying the impact that manufacturing workers have on our daily lives. From creating the products we use daily to innovating new ones; they are often detail-oriented problem solvers contributing significantly to our quality of life and economy. As you might expect, this makes manufacturing jobs highly in demand in the United States.
Anyone looking to gain admission into this thriving industry will likely start with an entry-level position that allows them to get their feet wet and continue building the needed skills to advance. Perhaps you are considering manufacturing training as a steppingstone in your career path or are unsure what education you need to enter the manufacturing industry. Fortunately, we are here to help break down the top entry-level manufacturing jobs that you likely have the skills for already.
Exploring Entry-Level Manufacturing Positions
Entry-level manufacturing positions are available in almost every industry area, including atypical focuses like food and furniture. Many industries like aerospace, automotive, and more will also require supervisors, engineers, assembly workers, quality control managers, and more, in addition to standard production workers. This provides countless opportunities for continued growth.
NOTE: While this list is not exhaustive, some positions may require candidates to undergo specialized training before obtaining the role. Check the requirements with a team member of Certified Source if you are unsure.
Manufacturing Positions that Require a High-School Diploma
The manufacturing industry is among the most inclusive for individuals that don't have extensive formal education but aren't afraid to take a bit extra on-the-job training. Below you will find a range of positions that can help get your foot in the door of the manufacturing industry yet will also provide internal growth opportunities that lead to higher-paying and better positions.
Solderers, Cutters, and Welders

General Maintenance and Repair Workers

Packaging and Filling Machine Operators

Customers Service Representatives

Shipping and Receiving Clerks
Manufacturing Positions that Require a Postsecondary Certificate
Some candidates may already have achieved a postsecondary certificate to expand their potential in the manufacturing industry. Often, this will require two or more years of specific education in the field or focus you are interested in.
CNC Machinists and Operators

Certified Logistics Technicians

Certified Production Technicians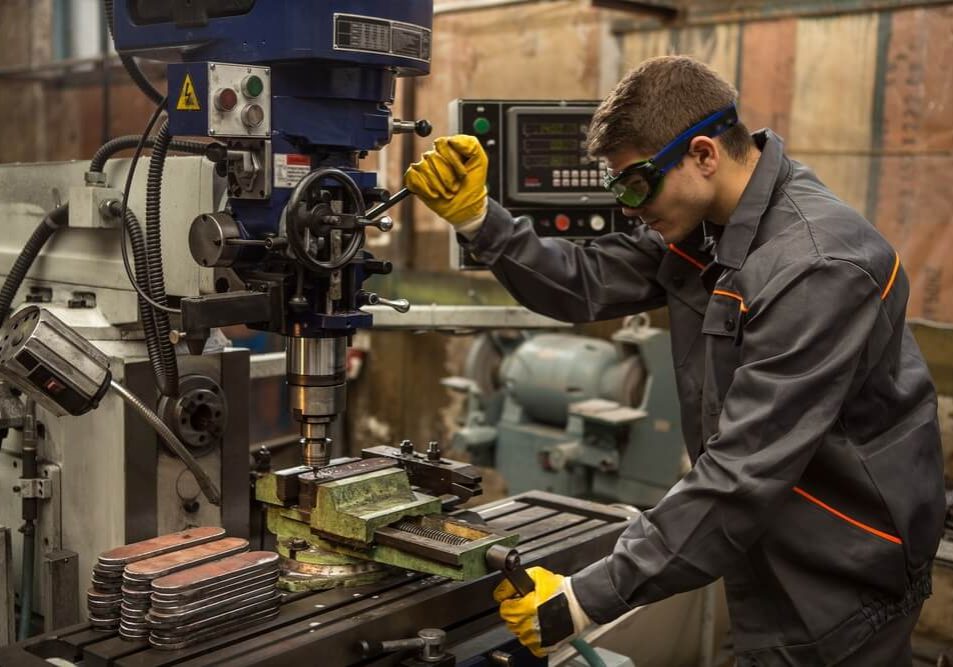 Manufacturing Positions that Require an Associate Degree
Many job candidates that Certified Source works with have achieved an Associate Degree. This often helps expand the potential entry-level jobs that are available to them. For example, an associate degree in Supply Chain & Logistics Management could provide countless new opportunities that could have otherwise been unavailable.
Shipping & Receiving Analyst

Materials Review Controller
Storage & Distribution Manager
Is Education Important for Manufacturing Jobs?
The level of education and training needed for a given position, business, and state will differ. For entry-level manufacturing jobs, a high school diploma is typically the absolute minimum requirement; however, more complex or advanced positions typically require postsecondary education and on-the-job training. Beginning your career with knowledge and experience can also increase job security; if you contribute, you will be seen as an indispensable, irreplaceable worker for years to come.
One of the skills most sought after by employers today is practical manufacturing experience. Even though it isn't always "required," it can help you stand out from the competition when applying for jobs. For instance, CNC machinists will have more employment opportunities than those who do not complete their certifications or associate degrees. Employers think practical experience makes things seamless and that developing a solid set of manufacturing skills takes time and effort.
Ready to Build Your Workforce?
As a pioneer in the performance-based approach, Certified Source works with job seekers to ensure their career goals are being met. We have developed great partnerships with employer clients throughout Oklahoma, looking for ways to meet headcounts and effectively manage their workforces. To get started, find your nearest office or contact us today to find out what is possible.